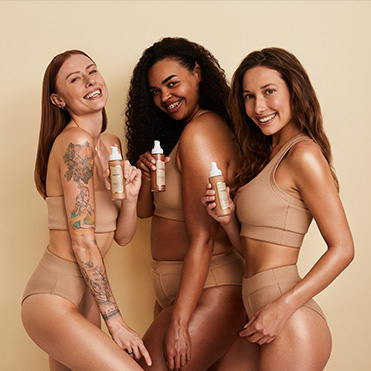 This balm will leave your skin illuminated with a healthy glow. Improve skin's appearance with a single swipe of your hand. Your skin will glow beautifully in any light and be photoshoot-ready in an instant.
NEW
MASTERTOUCH. Body Balm
Notice the instant, spectacular glow effect
and incredible and visible improvement of skin colour.
DAZZLE.
with natural beauty
Illuminated and healthy skin, just like after the most effective cosmetic treatment. A mixture of different tones of illuminating particles make a glowy surface on your skin, regardless of its colour. The balm is light, improves skin colour and level of moisture. Skin is smoother and soft to the touch and glistens beautifully in every light. Another advantage is refreshing but very subtle scent of pineapple.
PRO-INGREDIENT.
kale extract
This amazing ingredient has beneficial and nourishing properties. Kale is a well-known superfood and also its leaves extract is rich in nutrients and shows instant antioxidant effect. It improves natural resistance to stress and thus gives your skin an even, healthy and radiant look.
DISCOVER. Professional
hints
and enjoy the long lasting effect. Change the look of your skin with just a single stroke of your hand. Having applied the balm, it is recommended to wait about 10 minutes to let it absorb well, in order to prolong its effect. Your body will glisten in each light and look stunning in photos. Use it to darken your skin tone or to emphasize your pretty tan. If you have fair skin or prefer a more subtle look, you can graduate the effect by mixing the balm with your favourite face cream or body lotion.
CHECK OUT
SUPERSTAR.
Body Balm as well
They create a perfect team together. Skillful combining enables a visible shaping of your body, for example make your legs look slimmer or improve the appearance of your neckline.
Wypróbuj
About the product
A mixture of many different illuminating particles in multiple shades that create a shimmering surface adapting to any skin tone. The result is an amazing glowing effect. You can achieve a rich, bold look by using our product as it is, or simply add a little bit of the balm to your favourite body lotion for a more subtle glow. It is light on the skin, evens out any discoloration and is also highly moisturizing. This is thanks to the carefully selected ingredients such as unique kale leaf extract. The balm also contains jojoba oil which nourishes, moisturizes and softens the skin, and vitamin E which acts as a powerful antioxidant. The pleasing, fresh and subtle pineapple scent makes the product a pleasure to apply.
Pro ingredient - Kale leaf extract
Organic Kale leaf extract (Herbasol Glicerine SB) is included because of the beneficial and nutritional properties of kale leaves. Widely known as a "superfood", its extract is very rich in nutrients possessing antioxidant properties, improving the skin's natural resistance to stress. The result is an even, healthy and radiant look.
Key ingredients
kale extract, vegetable squalane, jojoba oil, grape seed oil, vitamin E
WHO IS THIS balm FOR?
Perfect for all skin types. Thanks to the semi-transparent formula, our balm adapts perfectly to any complexion, even the very fairest of skin tones.
How to use
To achieve a rich, bold look, use our product as it is, or simply add a touch of the balm to your favourite body lotion for a more subtle glow. Apply to the whole body or selected areas.
Ingredients
Aqua, Isoamyl Laurate*, Glycerin, Propanediol, Propanediol Dicaprylate*, Simmondsia Chinensis Seed Oil, Mica*, Squalane*, Cetearyl Alcohol*, Glyceryl Stearate Citrate*, Vitis Vinifera Seed Oil, Apricot Kernel Oil Polyglyceryl-4 Esters, Tocopherol, Helianthus Annuus Seed Oil, Brassica Oleracea Acephala Leaf Extract, Xanthan Gum*, Glyceryl Caprylate*, Tetrasodium Glutamate Diacetate, Benzyl Alcohol, Dehydroacetic Acid, Sodium Benzoate, Potassium Sorbate, Citric Acid, Parfum, Limonene, Tin Oxide*, CI 77891*, CI 77491*, CI 77499
*certified ingredients