SELF LOVE. BB CREAM
Re.power your beauty
As you apply our lotion you will immediately notice its stellar effect. Your skin will still retain its natural beauty and will look decidedly healthier and smoother with an even tone. Imperfections become nearly invisible. BB cream is the perfect choice as an every-day makeup because it can be easily reapplied throughout the day without the worry of it being too heavy for your skin.
Additionally, it contains a mineral SPF 6 sunscreen.
Fall in love with natural
look with Self Love BB Cream.
Immediately evens out your skin and its look healthier, more radiant and natural. Makes you love again your skin.
Find your perfect shade: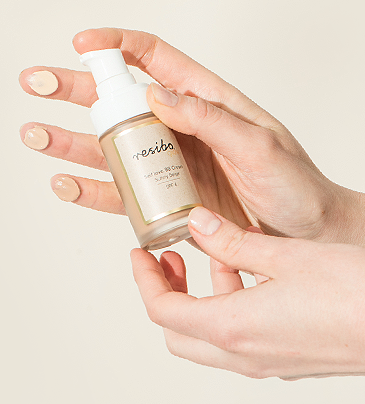 WHAT SHADE SHOULD YOU CHOOSE
IT'S EASY
Each one from 3 shades of Self Love BB Creams is easily adapting to your skin tone! Thanks to semi-transparency and very light formula all shades are universal and even tone your skin.
light beige
Perfect shade for light and very light skin, even for porcelain and ivory. Very universal thanks to neutral tones, easy adaptes and does not change the shade of the skin. Thanks to the special semi-transparence formula provides natural-looking and sheer coverage.
natural beige
The most popular and universal shade dedicated for everybody who usually uses medium and natural shades of foundations. Natural Beige Cream is easily adaptable color, with warm and golden tones and gives you healthy-looking effect. Thanks to the special semi-transparence formula provides natural-looking and sheer coverage. It is your perfect match!
sunny beige
Dedicated for olive, tanned and darker skin shades. Warm and sunny color with golden finish, without orange and cold tones. Fair complections would appreciate it during the summer time to accent tanned skin. Beautiful match for fresh sunkissed look for everyday.
INSTANTLY FLAWLESS-LOOKING
AND FRESH SKIN
Immediately evens out your skin and its look healthier, more radiant and natural. Build-able coverage, from very light semi-transparent after one layer. Up 3 thin layers with medium coverage effect, especially recommended when you struggle with melasma, acne or rosacea. You can also add more layers during the day to get fuller coverage effect.
PRO INGREDIENT
Turmeric Extract
Tumeric is well-known SUPERFOOD appreciated for its fantastic properties. Thanks to high content of polyphenoles it gives anti-inflamatory, antioxidation effect and supports the depigmentation processes. Cosmetics enriched with tumeric extract even outs the skin and have anti-aging properties.
ABOUT THE PRODUCT
This product both moisturizes and nourishes the skin as well as soothing any irritated areas. This is thanks to the lungwort extract which contains a number of different vitamins and minerals which have positive effects on the skin. Turmeric extract, with its antioxidant and photoprotective properties, is also responsible for supporting the depigmentation processes which improves the overall skin tone. Using this cream regularly will lead to velvety, soft skin. BB cream also contains plant squalene and a natural biopolymer that deeply moisturizes and improves the appearance and condition of the skin, while making it velvety to the touch. At the same time, it creates a natural film on the surface of the skin protecting it from becoming dehydrated.
Category Resibo glow
PRO INGREDIENT Turmeric Extract
The rhizome extract of this plant has anti-inflammatory and antioxidant properties and supports the depigmentation processes. Cosmetics containing this extract not only improve the skin's condition, but also prevent it from aging prematurely.
KEY INGREDIENTS
Lungwort extract, turmeric extract, natural biopolymer Fucocert (Biosaccharide Gum-1), plant squalane
WHO IS THIS BB CREAM FOR
Self love BB Cream is perfect for all skin types. Its consistency is light enough for those with oily skin to use without worrying about any undesired shininess, and thanks to the product's moisturizing properties, it is also a great choice for people with dry skin. It is important to note that this cream is best used in combination with a complete daily skin care routine. If our skin gets all the necessary nutrients through cleansing and conditioning, we can then be sure it will look beautiful, radiant and healthy. Self love is a great alternative to conventional makeup products.
HOW TO USE
Apply a small amount of cream to the skin and spread evenly with fingertips. Best results will be achieved by applying after your regular day cream is absorbed by the skin.
INGREDIENTS
Aqua, Zinc Oxide, Caprylic/Capric Triglyceride, Isoamyl Laurate, Glycerin, Cetearyl Alcohol, Propanediol, Octyldodecanol, Squalane, Cetearyl Glucoside, Polyhydroxystearic Acid, Tocopherol, Helianthus Annuus Seed Oil, Pulmonaria Officinalis Extract, Curcuma Longa Root Extract, Phenethyl Alcohol, Ethylhexylglycerin, Biosaccharide Gum-1, Jojoba Esters, Xanthan Gum, Sodium Stearoyl Glutamate, Tetrasodium Glutamate Diacetate, Sodium Benzoate, Potassium Sorbate, Trihydroxystearin, Sodium Levulinate, Sodium Anisate, Glyceryl Caprylate, Alumina, Silica, Citric Acid, Parfum, Linalool, Citronellol, Geraniol, Limonene, CI 77891, CI 77492, CI 77491, CI 77499

*certified ingredients